Summer 2023: Barriers Broken
Breaking Barriers Campaign Newsletter
Campaign Steering Committee Co-Chair Introduction
Last September, CSFP officially launched the Breaking Barriers Campaign – our 5-year, $100 million initiative to serve more Philadelphia students. As we work toward our ambitious goal of funding 7,700 students by 2027, we are excited about our current progress and what is to come.
While many would like the summer to last a while longer, CSFP embraces fall because it is a pivotal time for scholars returning to school and the launch of the 2024-2025 scholarship lottery application! It is also an important time for fundraising as we prepare to fund more than 6,000 scholarships. This is a great time for volunteers to get involved.
In this edition of the "Barriers Broken" campaign newsletter, you will read about one of the scholars you support, our fundraising progress, and the passionate leadership that makes all this possible. We especially encourage you to learn more about the pivotal educational tax credit programs (EITC/OSTC) that will positively impact schools and scholarship organizations across Pennsylvania. Thank you for being a part of the CSFP supporter family and ensuring as many Philadelphia students as possible have access to a safe, quality education that meets their needs.
With Gratitude,
Marc Bryant, Senior Managing Director/Chief Legal Officer – FS Investments
Evie McNiff, Co-founder – CSFP, CSFP Board Chair Emeritus
Tiffany Tavarez, Senior Vice President, Technology Diversity, Community and Sustainability (TDCS) – Wells Fargo
Family Testimonial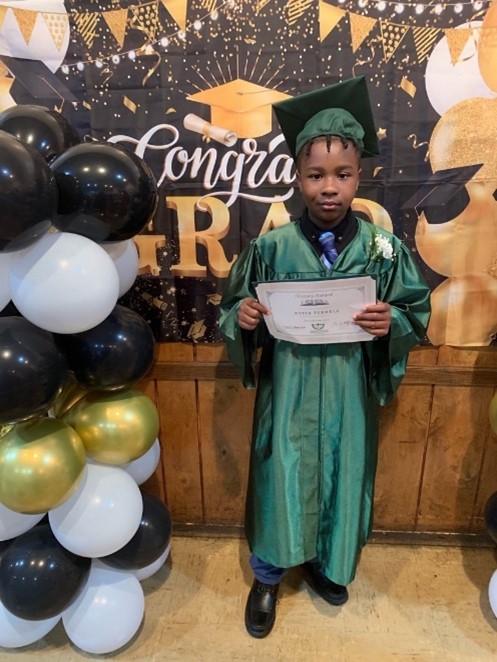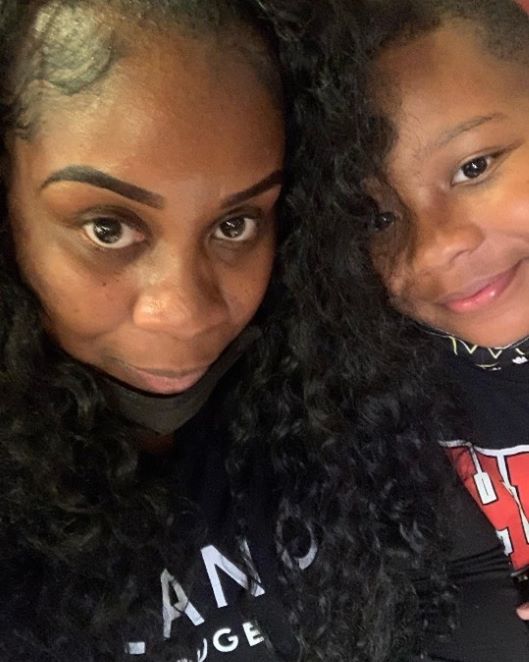 This summer, a CSFP scholar was celebrated as he graduated from Holmesburg Christian Academy. His mother, Teresa Houston, shared how a scholarship helped her son graduate with honors and prepared him for high school!
"Askia has been a Children's Scholarship Fund Philadelphia recipient for the past 4 years and it has changed his life tremendously. Before Children's Scholarship Fund Philadelphia, he was at a public school where he was constantly bullied and mishandled. Because of the scholarship program, I was able to place him in a better school and I watched him flourish. He graduated 8th grade with an overall GPA of 3.8. He received the History Award of Achievement for having the highest average in history. Askia will go on to attend Whitehall High School in the Fall. The Children's Scholarship Fund Philadelphia program has truly outdone themselves with the resources and funding they have provided children in Philadelphia. I am forever grateful for CSFP's dedication to help give children a better education."
Donor Profile: Meet the Boyce Family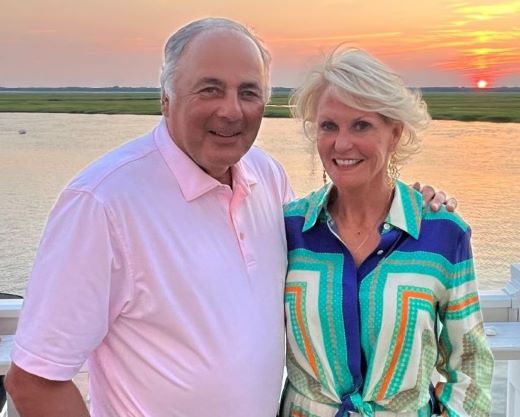 Shelley and Dan Boyce have been supporting CSFP students through their philanthropy for more than 14 years. They have been close friends of the organization since 2011 and continue to be supporters of providing educational options for students.
Shelley was instrumental in the strategic planning for the Breaking Barriers Campaign. Shelley was recruited to sit on CSFP's Board of Directors by Evie McNiff and Ina Lipman in 2011 while she was also serving as the Founder and CEO of MedRisk Inc. She graciously agreed and served as a foundational board member until she rolled off the board in 2021.
Notably, Shelley and Dan were the first individuals to make a contribution to the Breaking Barriers Campaign upon its launch in 2022. Their leadership pledge has provided opportunities for hundreds of students and will allow CSFP to deepen our impact for more students.
CSFP is grateful for Shelley and Dan's commitment to Philadelphia students. To highlight their investment, we asked them to tell us, "Why do you support CSFP?".
What draws you to CSFP and CSFP's mission?
"Education is critical in shaping our next generation of young people and CSFP plays an important role. CSFP is truly unique. Its fair and equitable lottery system ensures every student and family has an equal opportunity for selection. Once selected, families are offered the choice of schools to attend. After enrollment, CSFP doesn't stop with just providing the necessary funds. The staff and its program ambassadors provide support to keep families and students engaged and enrolled, thus maximizing long term success. Over the years, CSFP has proven its model and is well-positioned to expand its scope and reach."
Why did you choose to donate to the campaign?
"Giving to CSFP's capital campaign is a great way to step up our annual giving. The goals of increasing the size, scope, and duration of scholarships will have an exponential impact on students and the program. We are very passionate about the great work of CFSP."
What part of the Breaking Barriers Campaign do you believe will make the biggest impact on those we serve?
"Every aspect of growth will contribute to creating a greater outcome for our students, families and community. There is no single element or aspect of the campaign that stands out as having the greatest impact. The preparation and thought that went into the campaign speaks to its comprehensiveness."
Steering Committee Update
Please join us to welcome John Glomb (President & CEO, Philadelphia Insurance Companies), Tara Humma (Associate, Ballard Spahr LLP) and Karen Shakoske (SVP, Head of Marketing and Corporate Communications, Janney Montgomery Scott LLC) to the Breaking Barriers Campaign Steering Committee!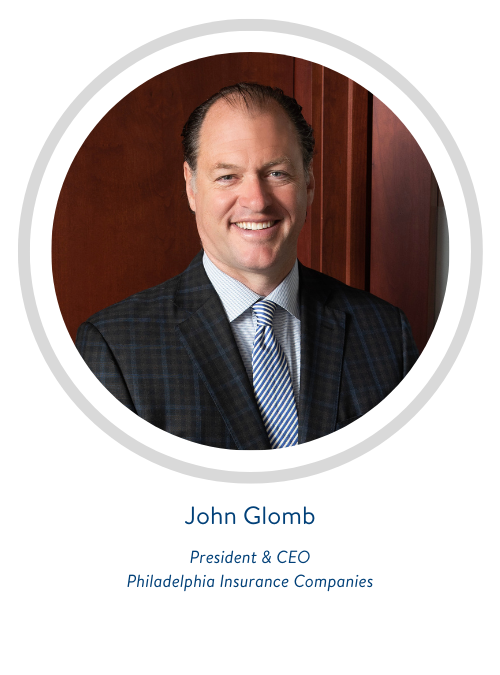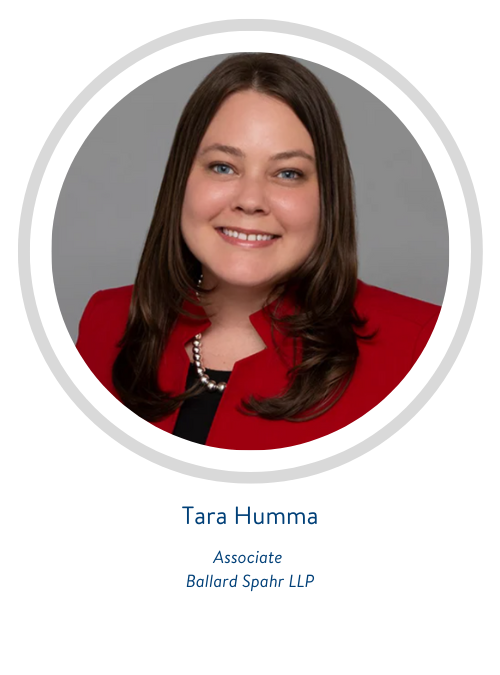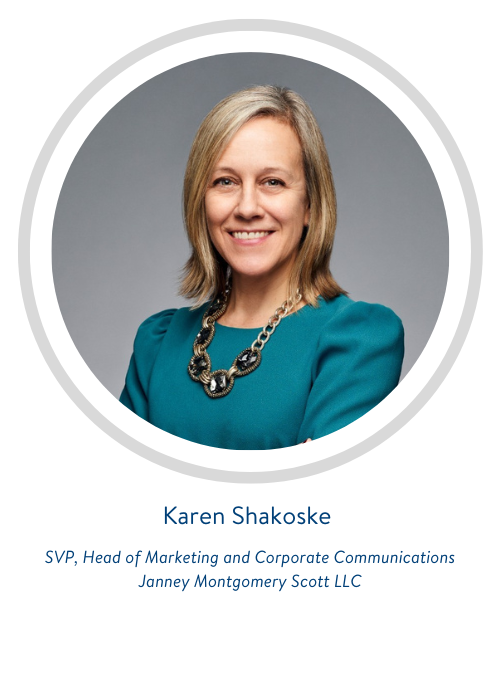 Campaign Progress (as of July 2023)
Fundraising to date: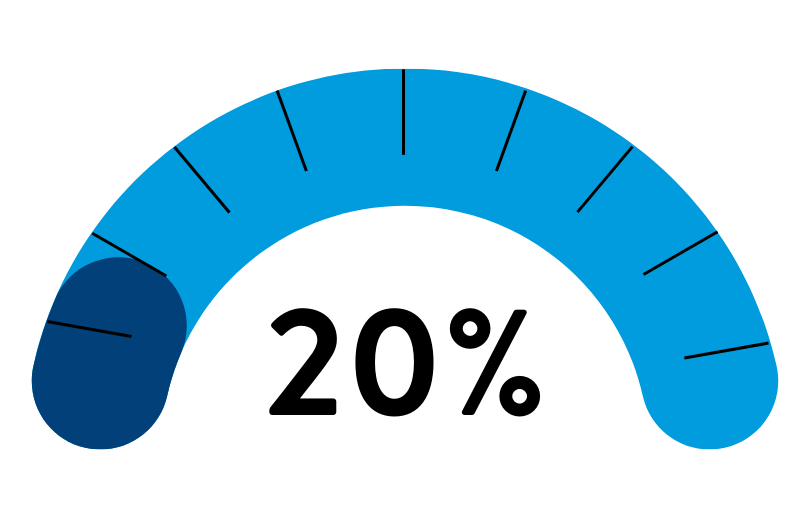 Considering that the Breaking Barriers campaign is in its first full year, we are on track with our fundraising goal to date. CSFP raised $18,603,029.39 which is about 20% of our campaign goal of $100M over five years.
Fundraising Progress by Donation Type: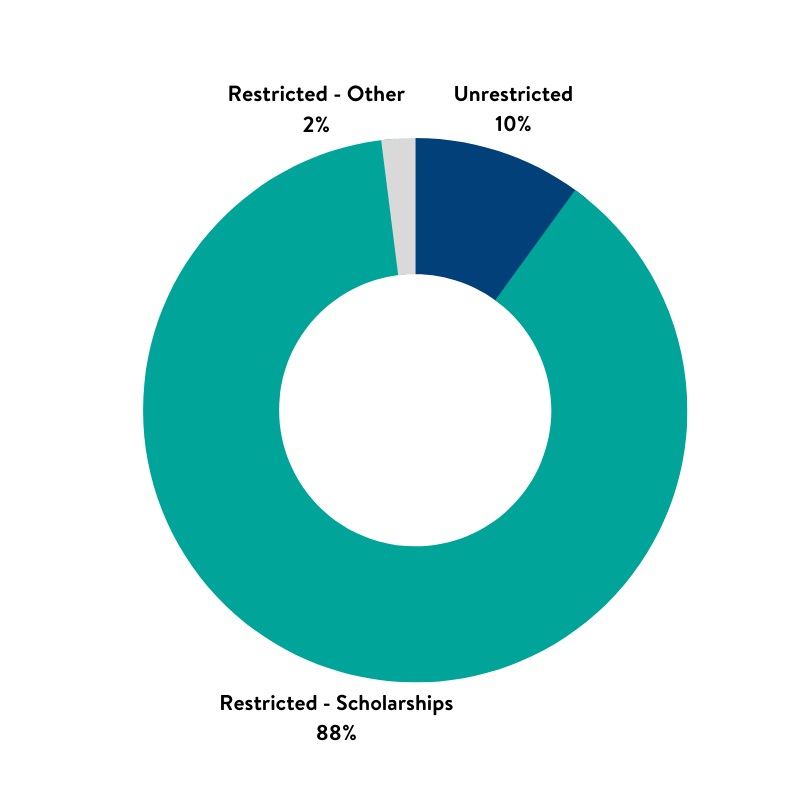 Most of our donor contributions directly fund scholarships. This has helped CSFP achieve its goal of serving more students longer. Unrestricted and Restricted – Other funds help CSFP build our operational capacity to support our programming.
Scholars served since the launch of the campaign, and future projections with campaign goal achievement: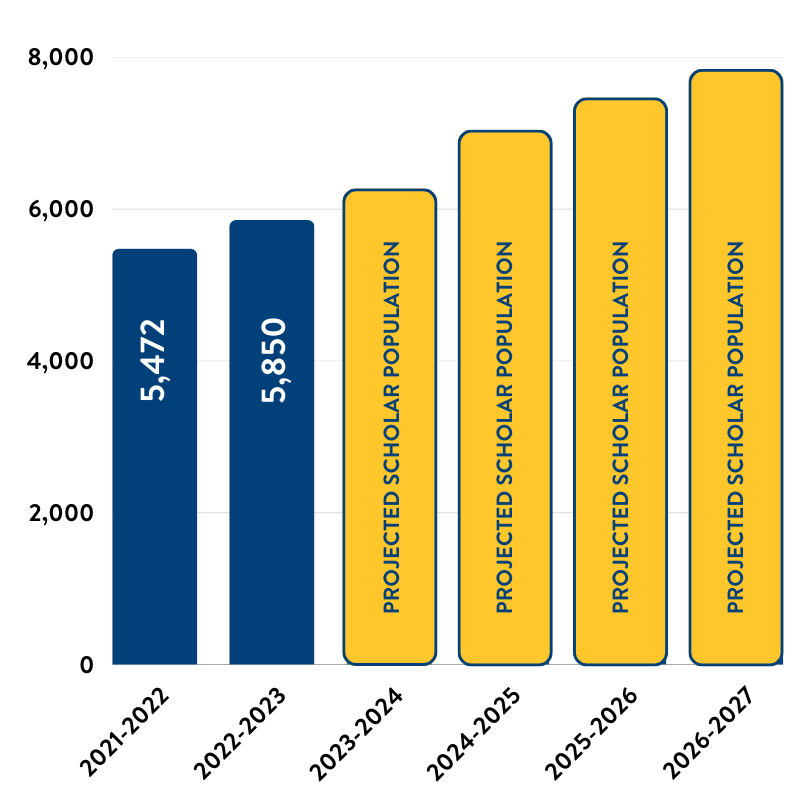 Each year, this number will increase to serve up to 2,000 new students and reach our campaign goal of funding 7,700 students by 2027.
Transform your PA Tax Liability into Scholarships for CSFP Students: TIMELY UPDATE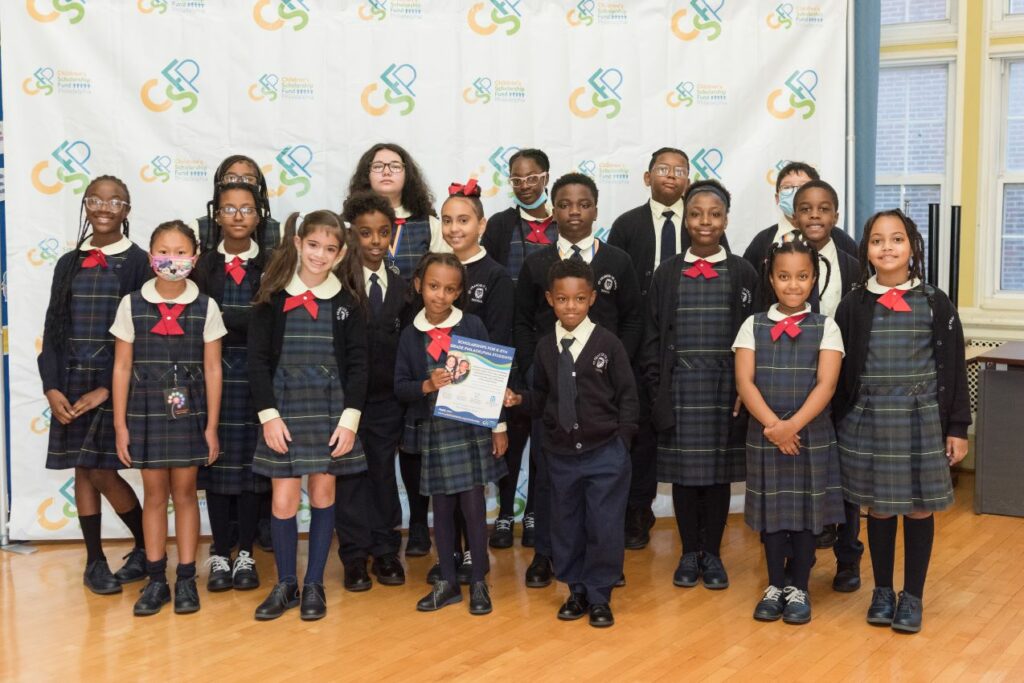 You can invest in Philadelphia children while lowering your state and federal tax liability through the PA Opportunity Scholarship Tax Credit (OSTC) and the PA Educational Improvement Tax Credit (EITC). 77% of Philadelphia K-8th grade public schools are on Pennsylvania's list of low-performing schools, and many parents from under-resourced neighborhoods are desperate for better options for their children. CSFP is a state-approved scholarship organization (OSTC and EITC-SO). Both businesses and individuals can utilize PA tax credits.
We encourage you to contact us and learn more about this beneficial and highly competitive program. Contact Vice President of Development Megan Staples Jacob today ([email protected]) to learn more.
Our Conviction
That all parents, regardless of their zip code or financial situation, should have the resources to enroll their child in the school of their choice.
Our Solution
Providing children from under-resourced Philadelphia families with access to tuition-based schools of their choice—and to new pathways of opportunity in life.
Our Aspiration
To be part of a future in which all children in Philadelphia have a safe, quality education and their success breaks the cycle of generational poverty.